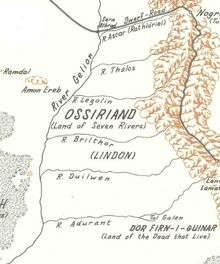 The Adurant ran from the southern Blue Mountains into the river Gelion, marking the southern boundary of Ossiriand.
According to Karen Wynn Fonstad's The Atlas of Middle-earth, it was over one-hundred and fifty miles in length.[1]
The small island of Tol Galen lay between its banks.[2][3]
Etymology
Edit
The name means "Double-course" in Sindarin, referring to a parting of the river about the isle of Tol Galen.[4]
Translations around the World
Edit
| Foreign Language | Translated name |
| --- | --- |
| Amharic | ዓዱራንት |
| Arabic | أدورانت |
| Armenian | Ադուրանտ |
| Belarusian Cyrillic | Адурант |
| Bengali | আদুরান্ত |
| Bulgarian Cyrillic | Адурант |
| Chinese (Hong Kong) | 阿杜蘭特河 |
| Dari | ادورانت |
| Georgian | ადურანტი |
| Greek | Αδυραντ |
| Gujarati | આદુરન્ત |
| Hebrew | אדוראנת |
| Hindi | आदुरन्त |
| Japanese | アドゥラント |
| Kannada | ಆದುರನ್ತ್ |
| Kazakh Cyrillic | Адұрант |
| Kurdish | ئدورانت (Arabic script) Idurant ? (Latin) |
| Kyrgyz Cyrillic | Адурант |
| Laotian | ະດຸrະນຕ ? |
| Macedonian Cyrillic | Адурант |
| Malayalam | ആദുരന്റ് ? |
| Marathi | आदुर्न्त ? |
| Mongolian Cyrillic | Адурант |
| Nepalese | आदुरन्त |
| Pashto | آدورانت ? |
| Persian | ادورانت |
| Polish | Aduranta |
| Punjabi | ਆਦੁਰਨ੍ਤ |
| Russian | Адурант |
| Sanskrit | आदुरन्त् |
| Serbian | Адурант (Cyrillic) Adurant (Latin) |
| Sinhalese | ආදුරන්ත් |
| Tajik | Адурант |
| Tamil | ஆதுரந்த் |
| Telugu | ఆదురన్త |
| Tibetan | ཱདུརནྟ |
| Tigrinya | ዓዱራንት |
| Ukrainian Cyrillic | Адурант |
| Urdu | ادورانٹ |
| Uyghur | ئدۇرانت |
| Uzbek | Адурант (Cyrillic) Adurant (Latin) |
| Yiddish | אַדוראַנט |
References
Edit