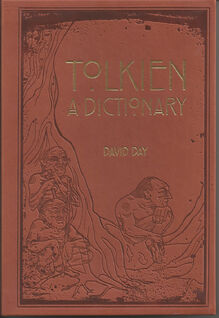 A Dictionary of Tolkien (ISBN 9781607109693) is a glossary-book written by David Day.
The book was first published on the 1st of January 2013. The book covers all the different peoples, locations, cities etc. of Middle-earth in alphabetical order with provided explanations. The book does not give much new information, however, because almost all information is gathered from Day's previous Middle-earth compendiums.
Translations
Foreign Language
Translated name
Afrikaans
'N Woordeboek van Tolkien
Albanian
Fjalori Tolkien
Amharic
ቶልኪየን መዝገበ ቃላት
Arabic
تولكين قاموس
Armenian
Թոլքին Բառարան
Azerbaijani
Tolkin Lüğət

تالکین سؤزلوک (South Azerbaijani)

Basque
Tolkien Hiztegi
Belarusian Cyrillic
Толкін Слоўнік
Bengali
টলকিন অভিধান
Bosnian
Tolkien Rečnik
Breton
Geriadur Tolkien
Bulgarian Cyrillic
Речник на Толкин
Cambodian
វចនានុក្រមតូលគីន
Catalan
Un diccionari de Tolkien
Chinese
托爾金词典
Croatian
Tolkien Rječnik
Czech
Tolkien Slovník
Danish
Tolkien-ordbogen
Dutch
Een Woordenboek van Tolkien
Estonian
Tolkien Sõnaraamat
Faroese
Tolkien Orðabók
Filipino
Isang diksyunaryo ng Tolkien
Finnish
Tolkien-sanakirja
French
Un dictionnaire de Tolkien
Galician
Un dicionario de Tolkien
Georgian
ტოლკინი ლექსიკონი
German
Ein Wörterbuch von Tolkien
Gujarati
ટોલ્કિઅન શબ્દકોશ
Hausa
Ƙamus Tolkien
Hebrew
טולקין מילון
Hindi
का एक शब्दकोश टोल्किन
Hungarian
Tolkien Szótár
Icelandic
Tolkien Orðabók
Indonesian
Tolkien Kamus
Irish Gaelic
A Foclóir Tolkien
Italian
Un dizionario d'Tolkien
Japanese
トールキン辞書
Javanese
Kamus Tolkien
Kannada
ಟೊಲ್ಕಿನ್ ನಿಘಂಟು
Kazakh
Толкиен Сөздік (Cyrillic) Tolkïen Sözdik (Latin)
Korean
톨킨사전
Kurdish
Tolkien Ferheng (Kurmanji Kurdish)
Kyrgyz Cyrillic
Толкин Сөздүк
Latvian
Tolkien Vārdnīca
Lithuanian
Tolkien Žodynas
Luxembourgish
E Dictionnaire vum Tolkien
Macedonian Cyrillic
Толкин Речник
Malaysian
Tolkien Kamus
Manx
Yn Tolkien Fockleyr
Marathi
टॉल्कीन शब्दकोश
Mongolian Cyrillic
Толкин толь бичиг
Nepalese
टोकियन शब्दकोश
Norwegian
Tolkien-ordboken
Pashto
تولکین قاموس
Persian
تالکین فرهنگ لغت
Polish
Tolkien Słownik
Portuguese
Um dicionário de Tolkien
Punjabi
ਟੋਲਕੀਅਨ ਕੋਸ਼
Romanian
Un dicționar de Tolkien
Russian
Толкин Словарь
Scottish Gaelic
A Faclair Tolkien
Serbian
Толкин Речник (Cyrillic) Tolkin Rečnik (Latin)
Shona
Duramahwi reTolkien
Sinhalese
ටොල්කියන් ශබ්දකෝෂය
Slovak
Tolkien Slovník
Slovenian
Tolkien Slovar
Somalian
Tolkien Qaamuus
Spanish
Un diccionario de Tolkien
Sundanese
Kamus Tolkien
Swahili
Kamusi ya Tolkien
Swedish
Tolkien-ordboken
Tajik Cyrillic
Толкиен Луғат
Tamil
டோல்கீன் அகராதி
Telugu
టోల్కీన్ నిఘంటువు
Thai
โทลคีนพจนานุกรม
Turkish
Tolkien Sözlük
Turkmen
Tolkin Sözlük
Ukrainian Cyrillic
Толкін Словник
Urdu
ٹولکین لغت
Uzbek
Толкиен Луғат (Cyrillic) Tolkien Lugʻat (Latin)
Vietnamese
Từ điển Tolkien
Welsh
Tolkien Geiriadur
Yiddish
א ווערטערבוך פון טאָלקיען
Community content is available under
CC-BY-SA
unless otherwise noted.